Earlier this month, a six-bedroom house in Canberra's Chapman sold for $2.33 million, $330,000 above reserve, to a buyer who had already drawn up plans to build a family home elsewhere.
But Australia's housing market is still struggling to recover from a downturn that the Reserve Bank last month called "a significant area of uncertainty" and which has cut transaction volumes.
Australian Bureau of Statistics figures on Tuesday showed house prices fell 5.5 per cent last calendar year, their fastest annual decline since at least 2002. Sydney houses dropped 8.4 per cent and Melbourne houses shed 7.6 per cent. Brisbane houses were little changed with a 0.2 per cent annual decline, Perth prices fell 2.2 per cent and Darwin slipped 0.8 per cent.
Adelaide house prices gained 1.7 per cent year-on-year, Canberra rose 2.1 per cent and Hobart prices jumped 9.2 per cent.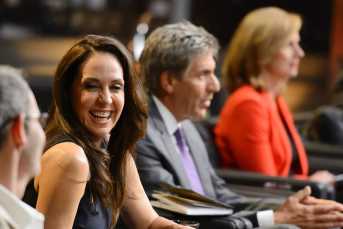 Figures for apartments and townhouse prices painted a similar picture, with a 4.2 per cent annual decline nationally. Sydney apartments posted a 6.4 per cent decline, Melbourne prices fell 2 per cent, Perth dropped 4 per cent and Darwin prices slumped 9.6 per cent. Brisbane attached dwelling prices slipped 0.9 per cent.
Canberra and Adelaide unit prices ticked up a slight 0.6 per cent while Hobart jumped 11.3 per cent.
Many economists still expect the overall decline to continue for the rest of this year, if not longer. Separate figures from consultancy BIS Oxford Economics show Sydney, where the average downturn last 14 quarters, has been through six quarters of decline so far.
In the case of the Allis family house, the fact that the property included a tennis court but was only about 1200 square metres, in contrast to the typical tennis court-owning home that was more likely to be closer to 1500 square metres in size, made it cheaper and more attractive for buyers, people familiar with the sale said.
Ms and Mr Allis sold 70 per cent of of Retail Zoo – which now includes Boost Juice, Salsa's Fresh Mex, Cibo Espresso and Betty's Burgers – to The Riverside Company for nearly $70 million in 2010, before another private equity giant, Bain Capital, swooped in 2014. Ms Allis, now a star of Network Ten's Shark Tank and a board member of ASX-listed jewellery retailer Michael Hill, still has a minority stake in the business.
Late last year Bain and its bankers at Citi started pitching Retail Zoo, which they dubbed "Australia's leading multi-brand QSR platform" to investors in markets including the US, Street Talk reported.