"Fortunately, no one onboard was injured and the team are currently making their way back to shore," Sun Hung Kai Scallywag's Facebook page reported.
"The team is deeply saddened about the event that has taken place onboard."
Skipper David Witt admitted before the race that he wasn't "100 per cent sure" how the greatly modified boat would perform.
"We could be a lemon, we could be a strawberry," Witt said.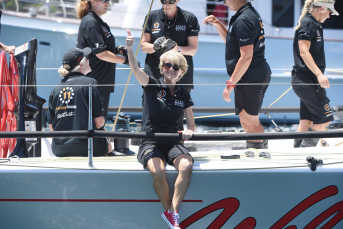 His boat's misfortune left the four Australian supermaxis vying for line honours, with a local winner for a third straight year looking almost inevitable.
The only foreign owned line honours victors in the last 15 years, Alfa Romeo (New Zealand, 2009) and Comanche (United States 2015) are competing this year as Australian boats, with the former now known as Black Jack.
Comanche was on pace to break her 2017 race record of one day nine hours 15 minutes 24 seconds, but that was going to be hard to maintain, with winds expected to drop significantly sometime on Thursday.
"Tonight (Wednesday) will be really fast and it will slow down eventually," skipper of handicap favourite Ichi Ban Matt Allen said before the race started.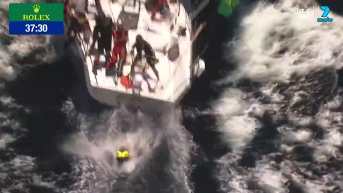 "But then through the course of tomorrow it is going to be about people avoiding the areas of no wind.
"And there is going to be lots of areas of no wind on this race track right across the whole fleet.
"It is going to be (about) trying to keep the boats moving through the early hours of the morning right across the 27th and 28th."
For the second straight year, Queensland's Black Jack was first out of Sydney Heads, rounding the mark in just over 13 minutes, ahead of InfoTrack and Wild Oats XI.
Comanche was sixth out of Sydney Heads, but zoomed through the fleet, as the boats made their way out of Sydney and down the NSW south coast.
Former federal Liberal Party deputy leader and Foreign Minister Julie Bishop started the race on the 66-foot Wild Oats XI and as planned she disembarked well inside the first hour.
AAP