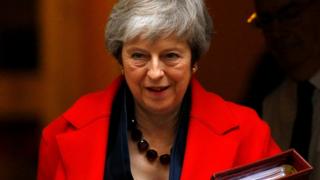 Prime Minister Theresa May has accepted the BBC's offer to take part in a debate on Brexit on Sunday 9 December, two days before MPs vote on her deal.
But Labour sources say the party has not yet agreed to take part, with Jeremy Corbyn telling This Morning he preferred ITV's offer.
The BBC said it was "delighted" Mrs May had accepted the offer.
It added it would be discussing debate formats with both parties and would announce further details soon.
BBC assistant political editor Norman Smith said the BBC debate would include a panel of people involved in the Brexit debate who would be able to question the two party leaders.
He added Mrs May had accepted the offer "because there was a view on the government's side that the BBC would address the crux of the issue, namely the deal".
It's understood the BBC programme would be held on 9 December at 20:00 GMT in Birmingham.
The SNP, Lib Dems, Plaid Cymru and Greens have demanded to be involved to ensure a range of views is reflected.
However, Mrs May has rejected calls for leaders of smaller political parties to join in, saying she and Labour leader Jeremy Corbyn represented almost 90% of MPs in the Commons between them.
Mrs May is beginning a two-week campaign to sell her Brexit deal to the public and MPs, before the vote in the House of Commons on 11 December.